LINK Marketer
Reach every client instantly.
Targeting customers on the move is essential for businesses nowadays. Instant message marketing is an essential part of multichannel marketing strategies, facilitating communication for any type of business, including schools and their communication with parents and students. Impactful and targeted communication via SMS or Viber messages can be successfully done with the right choice of software that automatically accesses customers and target audience, providing them with instant information about just anything you would like to tell them about.
LINK Marketer presents itself as a great choice for your business needs, as it is customizable and gives you a number of options for engaging with your customers in a direct and precise way.
What is LINK Marketer?
LINK Marketer is a software solution that allows you to communicate and advertise your business by means of instant messaging, mainly via SMS and Viber platforms. Using our software's solid and reliable server, you can engage with SMS with a great number of your users simply and efficiently. The messages can be sent via different local and foreign mobile operators without any delay. With LINK Marketer, your business will certainly stand out from the competition thanks to the great variety of features and personalization it offers.
The software is very adaptable and beneficial for school management use because it allows school administrators to reach parents, students and other business partners easily and effectively, and deliver instant notifications about school life to anyone involved.
What are the options of LINK Marketer?
Creating unique contact lists
A feature for creating customized contact lists, allowing you to easily manage to target your campaigns at the right audience. The lists can be edited and you can add or remove new or expired contacts, select individual ones for personalized campaign content and send your messages to multiple lists as you wish.
A dynamic contact list feature sorts the contacts on your list automatically by the governing query criteria. Automatic updates of the list can be configured based on your personal preferences, and members of the list selected based on one or more attributes you assign to the query.
The program equips you with a variety of marketing media modes to keep up to date with contemporary forms of instant messaging. Viber and SMS campaigns are the most used features of the program; they will provide you with the most efficient experience of creating targeted messages.
The program has a handy feature for link shortening, which makes your content gain more organic exposure on social networks and other digital media. This option saves a significant amount of time that would otherwise be wasted on external manual link shortening processes.
View and link opening stats
This attribute tracks internal and external traffic on the link by utilizing UTM parameters. It provides valuable insight into the success and effectiveness of your campaign by letting you learn about the impact it made on the target audience of your custom campaign.
Lists of unsubscribed contacts
Allows insight into the unsubscribed contacts from the individual contact list. There is also the option to resubscribe chosen contacts, export the contacts into a table or other document formats (PDF, CSV) and filter them by personalized queries.
This feature enables that one thing all credible companies want to show off – you can choose your company's or your brand's name as the sender ID in one-way SMS messages, up to 11 characters long.
Having a solid and plain system of contacts is crucial for effective functioning. This option allows you to group and organize your contacts by personalized criteria, and divide them into smaller groups or segments based on common characteristics.
Be free to use any character you want to create your messages – the program allows you to create messages with characters that are not found in the standard GSM-7 character set, which makes it suitable for users of any language and letter group.
Why should you purchase LINK Marketer?
If you use LINK Marketer software, you can get better insight into your marketing campaigns and build better and more meaningful relationships with customer demands. Using its special features, you will easily maintain communication with the target audience in a cost-effective, even inexpensive way, because text messages don't cost a thing!
If LINK Marketer is used for school purposes, its SMS and Viber features are most often integrated into other school platforms in the system and they smoothly interact with all other automated features. Parents can subscribe for notifications about their child; it facilitates access to e-Diary available, and parents have immediate insight regarding the child's attendance, safety, and whereabouts at any time.
The software allows you to create unique contact lists, customized SMS and Viber campaigns, to reach all stats regarding the campaign such as the stats on opened links and views of the sent message. You can also connect to client databases, which lets you access and widen your contact groups more effectively.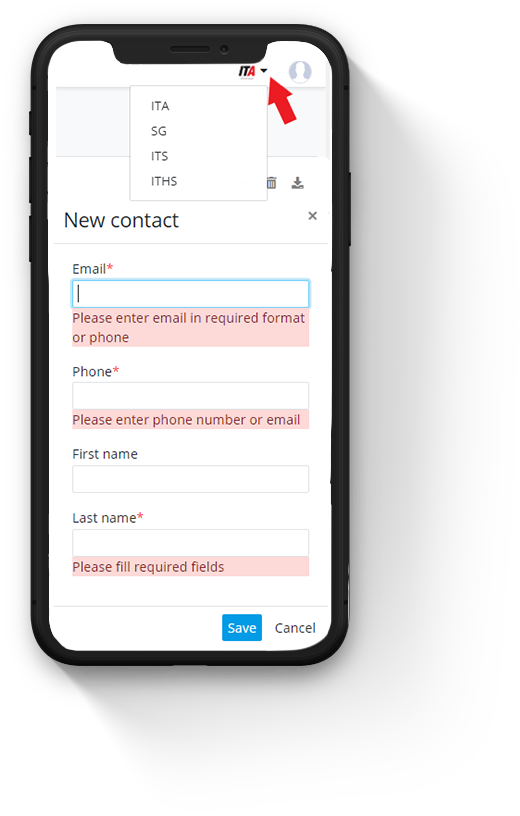 What are the key features of LINK Marketer?
Connecting with client databases

Sending and receiving SMS messages via 2N telecommunication gateway

Sending SMS messages via Post office SMS Bulk system

Sending and receiving SMS messages via the GoIP SMS server

Sending and receiving SMS, Viber, and failover messages via Infobip API

Customizing sending by companies and states

Dynamic activities regarding the process of sending and receiving messages

Forwarding received SMS messages to email